As children many of us played the guessing game.  In the guessing game, one person had a prize or secret object in one hand. This person would hold out both hands, closed in a fist, in front of him. The object of the game was for the other person to guess which hand held the hidden object.  
You would tap either the right hand or the left hand and say, "This one."  The person would open their hand and you would find out if it held the surprise.  It seems that a lot of people go through life like that with God, not realizing that "we" are the ones who must open our hands, hearts and ears.  
I heard Bishop T. D. Jakes once say, "So often people look to others as their help because they see themselves as "The Mission," thus damning up the flow of blessings.  When we learn that opening our hands is a two way street, we will see the flood gates open.  We learn that in order to receive, we must give.  BOTH require an open hand.  
The Bible is clear that we will face tribulations in our lives, but it is also clear that if we have faith the size of a mustard seed we can move mountains (Matthew 17:20).  When presented with a challenge in Exodus 4:2, God asked Moses, "What is that you have in your hand?" To which Moses replied, "My walking stick."  After hearing & following God's  instructions, that simple 'walking stick' was turned into anointed power.  
Opening your hand is sometimes easier said than done, so I want to challenge you to not only open your hand, open your heart and your ears to hear instruction from God.  He will never lead you wrong.  And as Moses did, check out what you have in your hand.
Life Dare: Sometimes we're so busy looking at the gifting in others that we don't see the tremendous blessing God has given us. In the comment section below, share ONE thing you KNOW, beyond a shadow of doubt, that God has gifted you to do.
About the Writer: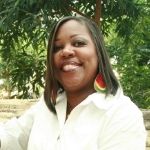 Valerie was born and raised in Gainesville Florida and is the 2nd oldest of four children.  She has served in ministry most of her life and loves to sing.  She received her ministerial license in 1998 under the leadership of Bishop T.D. Jakes where she served as a minister and in the choir. Valerie loves to sing and enjoys music.  She currently serves at her local church New Beginnings.