The rematch for the welterweight championship between Roberto Duran and Sugar Ray Leonard was held in the Super-dome in New Orleans. 
They were facing this rematch after Sugar Ray lost to Duran in Montreal on a decision of the judges.  During those days, Roberto Duran was known as the little hands of stone.  He was one of the greatest lightweight champions in the history of boxing.  He was macho and he liked that as his reputation.  He is poised to win the rematch. 
Now in their respective corners, they come out fighting and the crowd goes wild with screaming. It's an amazing fight, Sugar Ray is frustrating Duran to the point that he finally walks back to his corner and says to his trainer, "No Mas." His trainer says, "What?" He repeats, "No Mas," which means "no more." He quits!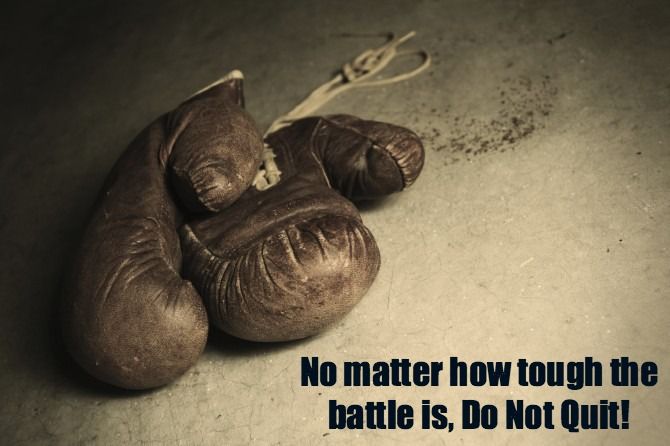 Duran quits the fight and Sugar Ray wins.  What a story.  In life we go through different situations, some harder than others and some which seem to beat us down within inches of our will to go on. But, we have a God who is telling us don't quit!  He is our trainer, the best there is, and He guarantees us the win!  
It is the enemies job to frustrate you, to make you believe that you can't make it, to make you believe that it is impossible. He piles on calamity after calamity.  BUT God!!  He is there.  He is willing and He is definitely able to triumph over every trick of the enemy, just don't quit!  Give Him all of your fears, all your disappointments, all your failures and He will turn them around for your good.
My ultimate dream for my family, both natural and spiritual is that they don't quit!  Don't give up the fight.  God is cheering you on.  He has even fixed the fight in your favor, but you have to stay in the fight!  Whatever challenges you today;  know that God is there setting you up for victory.
Life Dare: My challenge to you today is that you go to God's Word and find one of His promises.  Commit it to memory then remind Him daily of His Word and watch Him bring it to pass.
About the writer: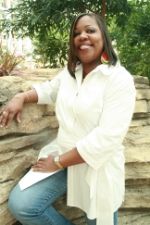 Valerie was born and raised in Gainesville Florida and is the 2nd oldest of four children.  She has served in ministry most of her life and loves to sing.  She received her ministerial license in 1998 under the leadership of Bishop T.D. Jakes where she served as a minister and in the choir. Valerie loves to sing and enjoys music.  She currently serves at her local church New Beginnings.